BOARDING is currently UNAVAILABLE!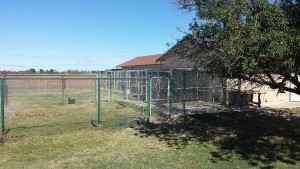 Tail Wag Inn is a country resort for the vacationing pet.
Gentle, caring, carefully screened and trained staff will pamper your pet. Kennels are overseen by Tail Wag Inn Veterinary Hospital for added safety and health of your pets.
Dogs:
Dog facilities include indoor suites with connecting outdoor patios. Private Indoor suites provide varying size accommodations of 4′ x 4′ , 4'x6′, and 4′ x 8′.
Available options include connecting doors which can be opened to create double or triple suites for multiple pets staying together.
Connecting outdoor patios are 4'x10′ and are included with each suite. Larger outdoor exercise areas are in a park like settings, where dogs are let out to play and roam two to three times daily.
While outdoors, they can see other dogs through chain link fence but are kept separate at all times for safety. Dogs are fed twice daily with veterinarian recommended Science Diet. Special accommodations are available for dogs with special needs.
Vaccination and other Requirements:
Proof of Rabies, DA2PP, Bordatella, and Canine Influenza Bivalent that were given by a licensed veterinarian are required for boarding. Dogs under 18 months need proof of a full puppy series in addition to the current vaccinations. We suggest that records are sent prior to arriving for boarding to speed up your check in process. Flea control is required for boarding for your pet's safety, to minimize parasite transmission that can occur when large numbers of dogs are housed together. Approved brands are Frontline, Advantage, Advantix and Revolution. Single doses of Advantage and Advantix may be purchased at the time of check in.
Cats and other animals:
Cats are boarded in the veterinary hospital. Other pets can be boarded as well such as pot bellied pigs, ducks, goats, and reptiles.
Call for current pricing and to schedule a tour of the kennel.